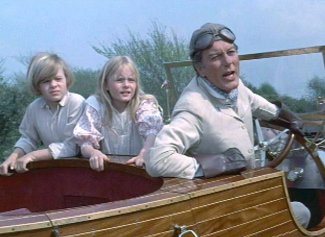 I love me some musicals. Nothing like people breaking into song in the middle of tense and/or exciting moments. (I mean, isn't that how you live your life?)

I have passed this appreciation along to my children. We love watching all kinds of musicals, from "Funny Girl" to "The Sound of Music." We enjoy belting out along with our favorite songs.

This morning, we were listening to the "Chitty Chitty Bang Bang" soundtrack while making lunches and cleaning up from breakfast. The song "Lovely Lonely Man" came on. It is sung about Dick Van Dyke's character.

"Why is she saying that he is a 'lonely man,' Mom?" Teensy inquired, "Is it because he's not married?"

"Yeah," I responded, "His wife died."

"Oh," she said, somewhat sadly. Then she added, "Was she Mary Poppins?"

"Um, no," I assured her.

Looks like I need to explain that all movie musicals are not once giant storyline.